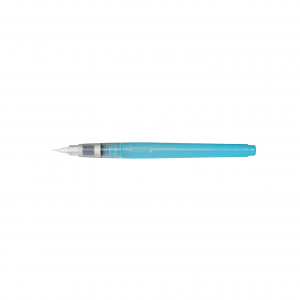 Niji Waterbrush - Small Round
A paintbrush and water container all-in-one, Niji Waterbrushes offer a simple way to use watercolors on the go. Water is stored in the hollow plastic handle and is released through the bristles with just a squeeze. 
Preferred for its unparalleled flow control, this combination brush and water container is a versatile tool for artists and crafters. A secure cap protects the nylon brush head for easy transport and the handle also serves as a reservoir. Holds 7 ml of water. Use for watercoloring, Sumi-e, rubber stamping, silk painting, bleaching, face painting, coloring book, and more. Also very handy for sealing envelopes or moistening stamps.
Brush Head: 3/32" x 5/16"
Brush Length: 6 7/10″