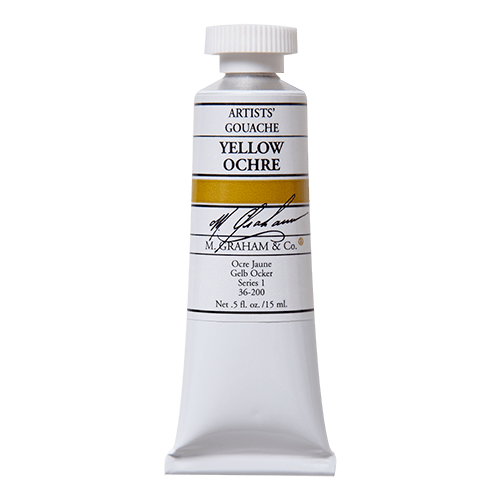 M. Graham Gouache Paint - Yellow Ochre 200 - 15ml Tube
739137
Pigment Composition - Natural Hydrated Iron Oxide (PY 43)
Lightfast Rating - Excellent - LF I
Opacity Rating - Opaque
M. Graham gouache is made in the time-honored tradition of binding pigment with pure honey and gum arabic, just as it was for Dürer and Boucher. Providing superior coverage and a creamy application, M. Graham fine art gouache delivers lightfast color designed for your permanent artwork.
With no added chalk or white, you're in control of creating the opacity you want—whether a soft, pearlescent glow or colors that pop with lively radiance.
As an essential ingredient in our binding medium, honey contributes to moistness for smooth, easily controlled applications, increased pigment concentrations, and freedom from over reliance on preservatives. Because of the honey medium, our watercolor resists hardening on the palette, or in the tube. It dilutes easily, often after months of disuse.