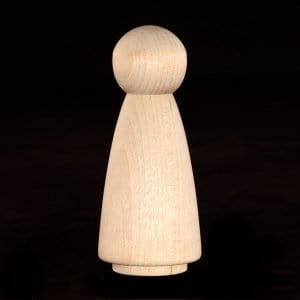 Peg dolls are a wonderfully simple addition to any child's world of imaginative play. Leave them unfinished for open ended play, dress them up with fabric scraps, or paint detailed faces and outfits on the forms. How you bring them to life is up to you!

Because of their small size these toys are not recommended for children under 3, or children who still explore their toys with their mouths.
Style: Large Lady/Angel
Dimensions: 3-1/2" tall x 1-1/2" diameter
Material: Birch 
Origin: Maine, USA.